PROUDLY SERVING SOUTHEAST TEXAS
Roach Exterminator in Houston
At EnviroCon Pest Control, we're no strangers to the concerns that come with a cockroach infestation, after all, everything is bigger in Texas, even cockroaches! That's why we proudly offer our top-notch roach control service to the residents of Houston and surrounding areas with same-day treatment so you can get back to enjoying your living space without the fear of creepy crawlies. With our expert technicians and family-friendly treatments, you can trust us to eliminate household cockroaches from your home once and for all. Not sure if what you're seeing are roaches? Here are the typical cockroaches we treat for in Texas:
American Roaches: These reddish-brown roaches are the largest and most common type found in the Houston area. Our inspection and treatment methods are specifically tailored to target these resilient pests.
Oriental Roaches: Known for their shiny black appearance, Oriental roaches thrive in moist environments such as drains and basements. We have the expertise to effectively get rid of these pesky invaders.
Smoky Brown Roaches: With their dark brown color and ability to fly, smoky brown roaches can be quite alarming to homeowners. Rest assured, our team is well-equipped to tackle these fast-moving pests.
Brown-banded Roaches: These smaller roaches prefer dry areas, making them commonly found in bedrooms and closets. Our same-day service ensures that these stubborn pests are eliminated promptly.
German Roaches: Highly adaptable and notorious for infesting kitchens, German roaches are incredibly resilient. Our proven methods and advanced techniques will rid your home of these persistent invaders.
When you choose EnviroCon Pest Control, you can expect more than just effective pest control. We stand behind our services with a money-back guarantee, giving you peace of mind that we'll get the job done right. Our team is prompt, professional, and committed to providing you with the best possible experience. Don't let cockroaches take over your home - call us today and let our experts take care of your pest problem. 
How Our Cockroach Pest Control Works
At EnviroCon Pest Control, our cockroach exterminators in Houston utilize a two-step approach to effectively eliminate these persistent pests.
Using our expertise and premium green products, we will create a customized treatment plan to effectively eliminate cockroaches from your property.
Our same-day service ensures that we address the problem promptly, providing you with peace of mind.
What to Expect when we arrive at your home
When you choose EnviroCon Pest Control for your roach exterminator needs in Houston, you can expect the highest standards of service and professionalism.
Upon arrival, our local exterminators will conduct a FREE inspection of your home to assess the extent of the infestation.
Next, our friendly technicians will thoroughly treat the interior of your house, targeting areas where cockroaches are commonly found.
We will also apply residual chemicals inside and outside your home, ensuring a comprehensive approach to roach prevention.
Lastly, our team will treat areas around doorways, windows, and the perimeter of your house, creating a barrier against future infestations.
100% Satisfaction Guarantee
We are committed to your satisfaction, and if any problems arise in between regular service dates, we provide a re-service warranty.
If you're not completely satisfied with our roach control service, we will work to resolve the issue to your full satisfaction.
Choose EnviroCon Pest Control for effective roach control that is safe for your family and the environment. Contact us today to schedule your FREE inspection and experience our family-friendly treatments firsthand.
Our Green Philosophy
At EnviroCon Pest Control, we take pride in offering environmentally friendly pest control options that Texans can trust. We understand the importance of protecting your home from cockroaches while also minimizing the impact on the environment.
We believe in using low-enviroment-impact chemicals for pest control treatments, ensuring the safety of your family and pets.
Our special certifications set us apart from other pest control companies in the Houston area, allowing us to provide effective and eco-friendly solutions.
Image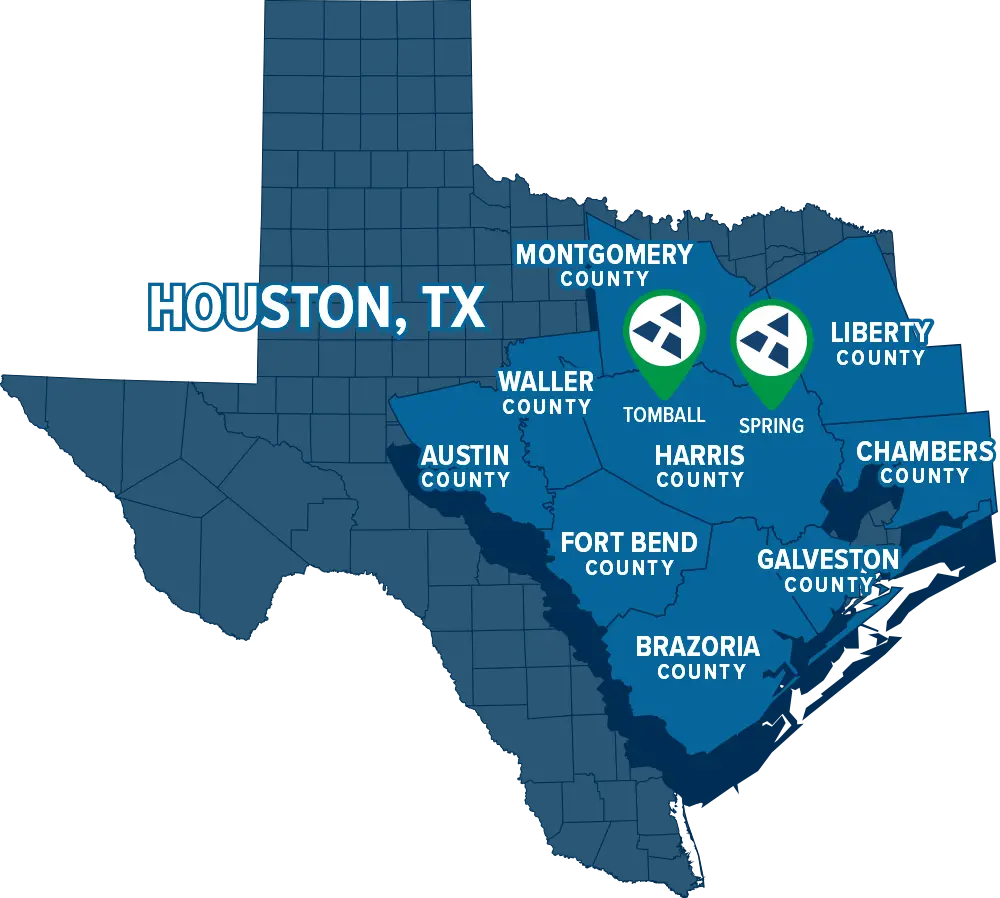 Areas We Service in Southeast Texas
We currently offer our same-day pest control services to residents throughout southeast Texas, including the following areas and more: