Same-day Pest Control in Kingwood For Only $41/Month!
Your home is your most sacred space, but if you have pests in your house, chances are it's not feeling so peaceful. Fortunately, you don't have to live this way forever! Let EnviroCon help restore your peace of mind with our pest control services in Kingwood, TX. We can help you take your home back from bugs with our same-day pest control services!
What kind of problem are you having? Select all that apply.
Pest Control Kingwood
Here at EnviroCon, we're not your average pest control company in Kingwood. We pride ourselves on providing the highest quality services from people who know your name and family. Our comprehensive pest control services include:
We offer same-day pest control services!
A complimentary pest control inspection
Family friendly pest control treatment plans
Recurring treatments and inspections 
Green, eco-friendly solutions & products
Green Treatments Keep Your Family Safe
Getting pests out of your home is important to us, however, so is the safety of your family, pets, and the environment. Here at EnviroCon, we are proud to offer green, eco-friendly solutions that are safe for the environment as well as your loved ones. With our pest control in Kingwood, you can have the peace of mind knowing your family is safe while we evict your unwanted pests!
Services We Provide in Your Area
Image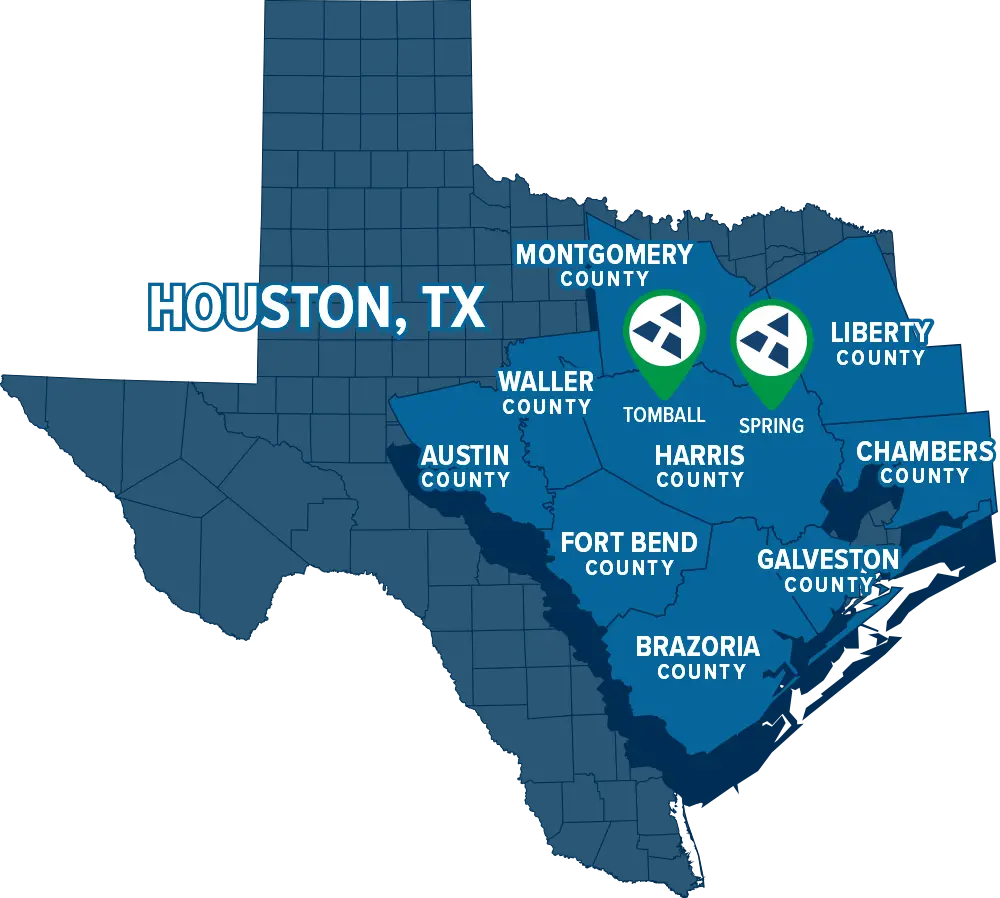 General Residential Pest Control in Kingwood
Recurring Treatments For Long-Term Relief
Image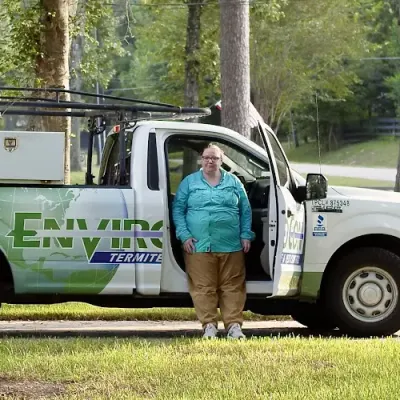 If you've been trying to deal with pests on your own, you've probably noticed they usually come back. For long-term relief, professional pest control is your best option. Our exterminators in Kingwood will return to your home several times a year to inspect and treat your home to ensure your pest problems stay a thing of the past. Our team will protect your family from pests such as:
Silverfish
Cockroaches
Ants
Beetles
Spiders
Flies
Gnats
And more!
CONTACT US NOW FOR FAST RELIEF!
$100 off Your First Treatment
Our pest control services in Kingwood will eliminate bugs and keep them out of your home for good. However, if they happen to persist in between scheduled visits, we are happy to come back and treat your home FOR FREE. In fact, we even offer our customers free service calls, so you always get the pest control you need without the hassle! We also know picking a pest control company can be hard, so we'll make it easy for you by offering you $100 off your first treatment when you partner with EnviroCon today.
Termite Exterminator in Kingwood
For a homeowner, termites can feel like something out of a nightmare. They multiply, eat through the wood of your home, and cause extensive damage that comes with a hefty repair bill. Texas is an area that is prone to very heavy termite activity, further increasing your risk of an infestation. Taking preventative measures with your Kingwood termite treatment is the best option to prevent a strain on your wallet. Early signs of an infestation to look out for include:
Mud tubes crawling up your foundation.
Discarded wings.
Floors and ceilings that are sagging.
Wood that sounds hollow when you knock on it.
If you notice any of these signs, our Kingwood termite exterminators have the solution you need that will give you fast relief. Time is of the essence when termites are involved, so it's important to contact us as soon as possible!
GET A SINGLE TERMITE SPOT TREATMENT FOR JUST $250
Eco-Friendly Solutions & A One-Year Termite Warranty
Here at EnviroCon, our number one priority is your family's safety. For our termite treatment in Kingwood, we offer tent-free, chemical-free treatments that are not only eco-friendly but also minimally invasive. To get the job done, our Kingwood termite exterminators will:
Complete a detailed termite inspection of your home to assess your current infestation.
Craft a custom termite treatment plan that eliminates all existing colonies. 
Use family-friendly, EPA-approved treatments to treat and protect your home.
Install monitoring stations to ensure your home stays termite-free for a whole year.
Mosquito Services in Kingwood
Lawn pests can make it difficult to enjoy your time outside. Mosquitoes cause itchy bites, ticks carry the threat of Lyme disease, fleas can cause allergic reactions in your pets, and fire ants have a burning bite. Obviously, you'd rather not have any of those pests on your property, which is why we offer superior mosquito control in Kingwood that includes them all.
CONTACT US TODAY TO LEARN MORE
Eliminate Health Risks in Your Yard
Insects are annoying and even painful, but they can also cause illnesses in you and your furry friends. Luckily, with our mosquito control in Kingwood that also tackles fleas, ticks, and fire ants, you don't have to worry whether the next trip outside could lead to serious complications. Our first priority is keeping you and your family safe, performing the services needed in your unique situation. When you partner with us for all your Kingwood mosquito control needs, you'll also be protected from all angles, eliminating the risk of:
Zika
Yellow fever
Malaria
Lyme disease
West Nile virus
Allergic reactions
And even more
GET YOUR FIRST MONTH OF MOSQUITO CONTROL FREE
Comprehensive Treatments for Lawn Pests
Our mosquito control in Kingwood is special, because it does so much more than just eliminate those bloodsucking pests. Wrapped up in that service is also tick, flea, and fire ant control in Kingwood, so we can protect your yard from a variety of tiny invaders. Our professional monthly Kingwood mosquito treatments include:
A comprehensive inspection to determine where pests are breeding and living.
Identification of hotspots where large amount of mosquitoes, fleas, ticks, or fire ants gather.
Customized treatments that meet your yard's needs, resulting in the fastest, most effective control possible.
Eco-friendly products on your trees, shrubs, and turf that's hard on pests, but safe for your plants.
Recurring monthly visits that keep mosquitoes, fleas, ticks, and fire ants far away from your home.
Our satisfaction guarantee. If pests persist between visits, simply give us a call and we'll re-treat your home free of charge!
Rodent Control in Kingwood
Did you know that rodents can spread at least thirty-five diseases to humans? The infections can be spread through urine, fleas, droppings, and saliva. If you have rodent issues, this is something you need to take care of ASAP! Luckily, EnviroCon Pest Control has rodent control in Kingwood to give you peace of mind!  We are here to provide fast services to protect your home and to make your life easier.  It's time to get a rodent-free home!  
CALL TODAY FOR SAME-DAY SERVICES!
Thorough Rodent Treatments For Long Term Results
Rodents can be small, so they can sneak into your home easily by finding small openings and also chewing through your walls and screens. These mammals can reproduce quickly, so if you do not act fast, you could have an infestation before you know it. EnviroCon Pest Control's rodent control has simple steps to get the rodents out of your home:
A thorough inspection: Our trained technicians will go to your home and inspect every corner to create a specified plan for your home.
Remove the rodents with baits: After creating a specified plan, our technicians will set up baits in specific locations where rodent activity is high.
Long-term protection: Our technicians will seal up any spots where rodents could get in and use professional exclusion devices to keep the rodents away.
Roach Exterminator in Kingwood
It doesn't take much to attract cockroaches into your home; food left on the counter, dirty dishes in the sink, and crumbs on the floor all attract these pests. Unfortunately, it's not as easy to get rid of roaches. They're incredibly resilient, which means it takes professional cockroach control to get the job done. Don't waste time and money trying to get rid of them yourself, trust the experts at EnviroCon!
Kicking out any type of pest—but especially cockroaches—is frustrating. That's why we've worked hard to make our cockroach control in Kingwood as easy and hassle-free as possible. This includes:
Using family-friendly products that pack a punch against roaches but are safe for your family and pets.
Offering same-day and next-day appointments to get treatment started as soon as possible.
Keeping our phone lines open 24 hours a day, ensuring there's always someone available for you to speak with.
Giving you our money-back guarantee, so can feel confident you're choosing the best company to get the job done.
Stinging Insect Control in Kingwood
Hornets, wasps, and yellow-jackets can easily become territorial if you get too close to their nests, making it important to leave stinging insect control in Kingwood to the professionals. You shouldn't risk painful and dangerous stings by trying to exterminate stinging insects on your own. Our exterminators have the right tools that allow them to safely remove these insects without putting your loved ones in harm's way. 
When you partner with us for stinging insect control in Kingwood, we will:
Locate all existing stinging insect nests on your property.
Create a custom treatment plan based on the size and location of the nest.
Carefully remove all the insects and make your yard safe again.
Back out services with a money-back guarantee.