Same-day Pest Control in Porter For Only $41/Month!
Your home should be your comfort zone, so don't let a pest infestation ruin that. Instead, let EnviroCon help defend your home with our pest control in Porter, TX. Our exterminators will send pests packing, fast with our same-day pest control services!
What kind of problem are you having? Select all that apply.
Pest Control in Porter
Reclaim Your Home From Pests
Struggling with the unsettling sight of pests scurrying through your home? You're not alone! Here at EnviroCon, we hire certified entomologists who have been thoroughly trained and are dedicated to understanding pest behaviors. This means when you call on our exterminators in Porter, they can pinpoint where pests are hiding and safely get rid of them. We even offer same-day and next-day services! When you contact us for your pest control in Porter, we will:
Complete a complimentary and thorough home inspection
Develop and implement a customized treatment plan
Conduct follow-up inspections and treatments to ensure long-term elimination
Environmentally and Family Friendly Treatment
Services We Provide in Your Area
Image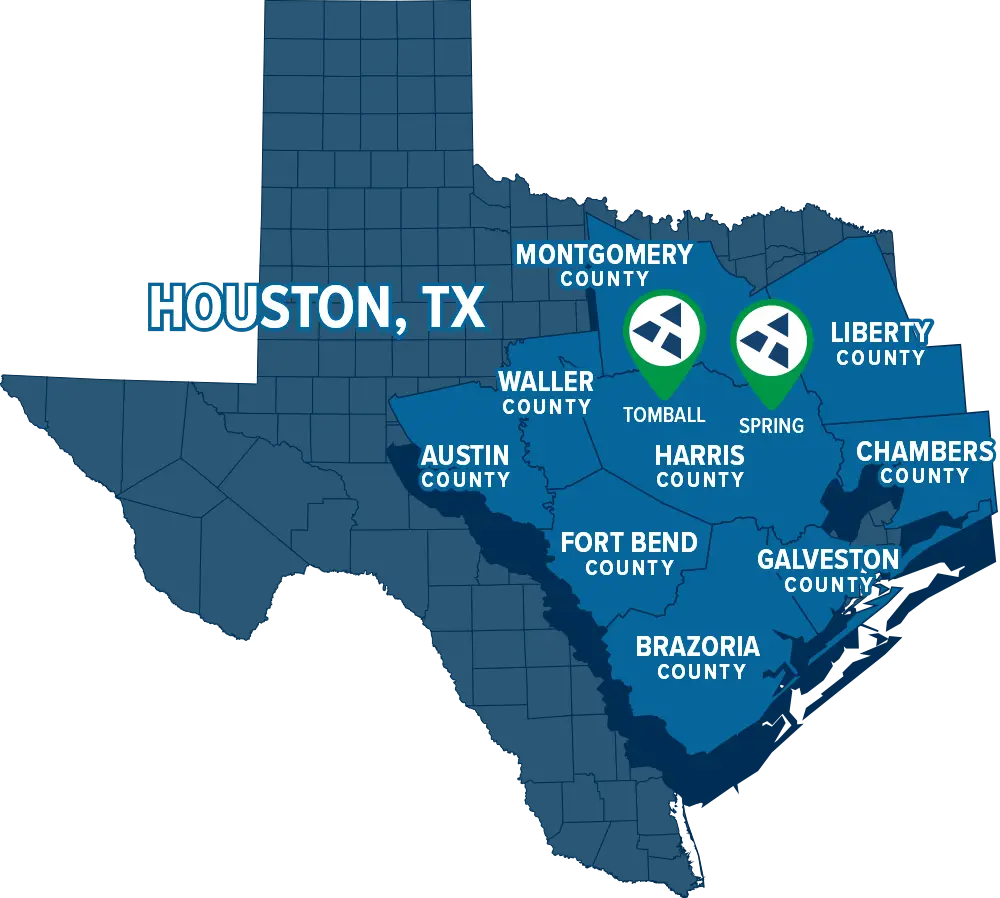 General Residential Pest Control in Porter
Image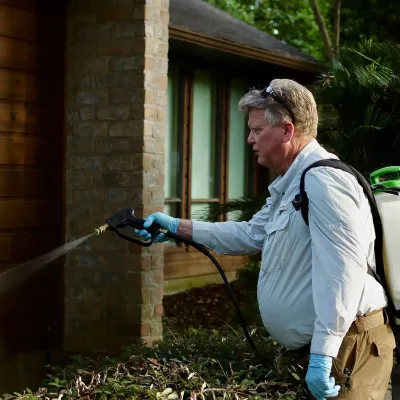 EnviroCon Pest Control is a locally-owned company here in Texas, which means our customers are more than just customers -- they're our neighbors. Our Porter pest control experts understand the importance of feeling safe and comfortable in your home. That is why when you partner with EnviroCon, you can be sure you're working with people who care. Our team of expert exterminators in Porter will restore your peace of mind with our same-day pest control services!
We have families just like yours and know how important safety is. For that reason, our pest control treatments in Porter are always environmentally and family friendly because we only use products with low toxicity. Don't worry, these treatment methods work just as well! If you're ready to fight off pests, contact your friends at EnviroCon and save $100 your initial pest control service OR receive a free mosquito treatment with the purchase of any treatment plan.
Termite Exterminator in Porter
Suspect that you might have termites? There's no time to waste with a termite infestation. Early intervention could save you thousands of dollars in damages. Here at EnviroCon, our trained termite exterminators have been serving the Porter area for over 10 years. We offer a variety of different treatment options to solve your termite problem. When you partner with us with your termite treatment in Porter, you can expect:
Free Termite inspection. A trained termite professional will inspect your home for termites to determine the appropriate treatment. 
Customized termite treatment plan. We will tailor a treatment plan around the specific type of termite infestation your home has to ensure optimal results. 
Environmentally-friendly treatments. We offer a non-fumigation alternative as a minimally invasive way to eliminate termites without using toxic chemicals. You won't even need to leave your home while our trained technicians treat for termites!
One-year warranty. We are so confident in our termite treatment services that we'll guarantee termite elimination for a full twelve months. 
Ask about bundling pest and termite protection plans today! Bundle and Save Today!
Get a Termite Spot Treatment for Just $250
Here at EnviroCon Pest Control, we understand that unexpected termite infestations are costly and can put a financial strain on homeowners. We offer a wide range of affordable termite treatment options, and we continue to offer discounts to make treatments accessible to all. Right now, for just $250, we'll eliminate your entire termite infestation for a whole year using highly effective liquid spot treatments. 
REDEEM $250 OFF A TERMITE SPOT TREATMENT!
Convenient Scheduling to Get Fast Relief
Termites can appear at the most inconvenient of times, but scheduling a termite exterminator doesn't have to be a hassle! Here at EnviroCon, we are happy to offer 24-hour phone lines and fast service, so you can get the fastest relief and protection possible for your home. Termite infestations can be stressful, but with EnviroCon on the job, they don't have to be a hassle!  
Mosquito Services in Porter
Mosquito, Flea, and Tick Control
Often times, spending time in your backyard means subjecting yourself to the nuisance of biting pests. Mosquitoes, fire ants, fleas, and ticks are not only annoying, but they can transmit potentially harmful diseases to you and your loved ones--even your furry friends. Here at EnviroCon, we can eliminate your pest problem and give you a backyard to enjoy in every season! 
With our lawn pest control program, we will use highly effective, targeted treatments to greatly reduce the populations of pests in your yard. When you partner with EnviroCon for your  lawn pest control, you can expect our experts to: 
Conduct a thorough inspection of your backyard to determine where the location and severity of the populations of mosquitoes, fleas, and ticks. 
Create a customized treatment plan to eliminate lawn pests all year-round. 
Apply eco-friendly treatments that target the areas that mosquitoes, fleas, ticks, and fire ants breed- eliminating their breeding grounds at the source. 
Return on a recurring, monthly basis to reapply treatments. Recurring treatments are the most effective way to keep mosquitoes, ticks, fire ants, and fleas away for the long haul. 
Retreat your home at no cost if these lawn pests persist in-between visits. 
24 Hour Phones, Fast Same Day Service
Outdoor pests may be inconvenient, but getting fast relief can be a breeze. At least, we think it can be. Here at EnviroCon, we pride ourselves on providing the most hassle-free experience for our customers. We provide the same and next-day service to ensure you get the fastest relief possible from the pests invading your home and yard. You aren't able to get to the phone during business hours? No problem! We also offer 24-hour phone lines for convenience. Call us today for a hassle-free experience!
Rodent Control in Porter
When rodents invade your home, the last thing you want to have to worry about is finding a pest control company you can trust. Luckily, with EnviroCon on your side, you can trust that will get the job done and get it done right! We are a one-stop shop for all your pest control needs, making us an easy choice no matter what critters have invaded your home!
Eco and Family Friendly Rodent Treatments That Work
With a mission to provide efficient pest control services that are safe for use around children and pets, our Porter rodent control services are designed to do just that! That's why our team of skilled technicians uses the best reduced-risk eco-friendly products on the market, so you can sleep easy knowing you can restore your rodent-free home without having to sacrifice your family's safety. That's not all we have to offer though with our rodent control in Porter services! In addition to being eco and family-friendly, our services are designed to make getting quality rodent control easy. When you partner with us for your rodent control needs, you can expect:
A thorough inspection of affected areas
A custom treatment plan, including professional baiting to rid your home of rodents
Professional exclusion services to prevent rodents from coming back
Same-day service options to give you quick relief
A money-back guarantee to promise that if you're not satisfied, we'll give you your money back!
Roach Exterminator in Porter
Some of the most universally-reviled pests on Earth, roaches are nevertheless good at getting into your home. They sneak through small cracks in foundations, open doors, and even through pipes! Once they're in, they can be very difficult to get rid of. Roaches aren't just gross though, they can trigger pre-existing allergens and respiratory problems and even spread diseases like Salmonella, Typhoid, and E. Coli. 
So when roaches get into your home, you need the best roach control in Porter, which is exactly what we at EnviroCon Pest Control provide.  When you team up with EnviroCon to handle your cockroach infestation, you'll receive service from the best of the best!
Roach control from EnviroCon includes:
A full in-home inspection to determine the severity of your roach infestation and what sort of roaches we're dealing with.
A customized roach control plan designed by an expert local roach exterminator.
Eco-friendly service with roach treatments that keep both your loved ones and the local environment safe. 
24-hour phone lines and available same-day service.
Guaranteed elimination of roaches in your home or your money back!
Bee Removal in Porter
Stinging insects like hornets, yellow jackets, and wasps might be a part of nature, but that doesn't mean you want them hanging out in your backyard. these insects can leave behind painful stings and even cause allergic reactions. To protect your loved ones, trust our stinging insect control in Porter instead of trying to tackle the problem on your own. We also treat Africanized honey bees, which are an especially aggressive and invasive insect.
When you choose our stinging insect control in Porter, we will:
Check trees, sheds, along the edges of your roof, and other common places for insect nests.
Create a customized treatment plan based on our inspection findings.
Safely eliminate all insects without putting your family at risk.
Give you our money-back guarantee.
Customer Service Like No Other
Everything we do is to benefit you, our beloved customers! We pride ourselves on being a one-stop shop for all of your Porter pest control needs. With our 24-hour phone lines and hassle-free scheduling, EnviroCon will always be here when you need us! We are confident in our exterminators in Porter and guarantee that you will be satisfied with your results. If for any reason you are dissatisfied, just let us know and we will re-treat your home or you get your money back from your last treatment!