Same-day Pest Control in The Woodlands For Only $41/Month!
Your home should be the most comfortable place in the world, but if you have pests invading, your little slice of heaven can start to feel a bit crowded. Don't let pests take away your peace of mind -- let EnviroCon help you feel at ease again with our same-day pest control in The Woodlands, TX.
What kind of problem are you having? Select all that apply.
Pest Control in the Woodlands
In addition to routine residential pest control, we also have a number of same or next-day specialty pest control services available on an on-call basis to homes in and around the Woodlands. 
When you have pests in your home, it pays to trust the best pest control company in the business to give you the relief you need. Here at EnviroCon, we employ a team of certified entomologists that have studied the biological nature and behavior of pests, giving us an edge over other pest companies in the area.
Services We Provide in Your Area
Image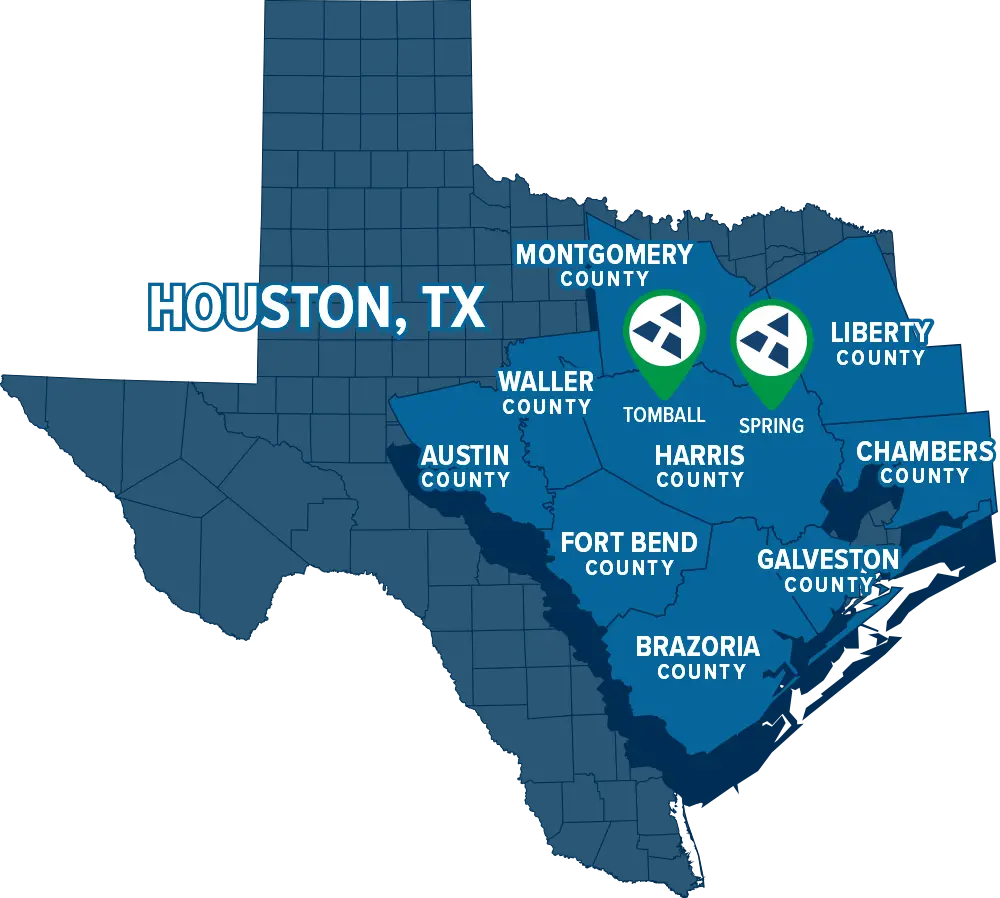 General Residential Pest Control in the Woodlands
Image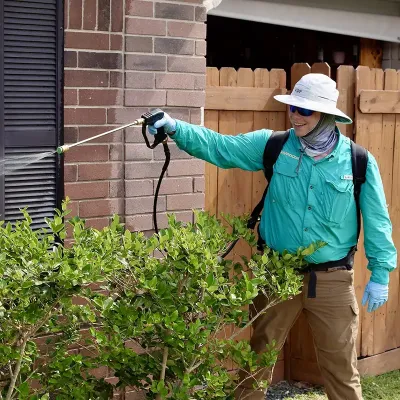 Our pest control exterminators in the Woodlands understand where pests hide, and how to eliminate them once and for all. Our residential pest services include:
A thorough pest inspection to determine problem areas
Both interior and exterior treatments for effectiveness
Frequent inspections and treatments for the long-term elimination of pests
Transparent communication throughout the entire process
Protection against ants, spiders, roaches, silverfish, and more
Termite Exterminator in the Woodlands
Here at EnviroCon, we know how much time, energy, and money it takes to make a home great. Don't let termites ruin the hard work you've put into your home. Every year, termites cause billions of dollars in damage to homes and structures in the United States. The worst part? By the time you realize you have termites, there's a good chance they've already had enough time to cause serious damage. Taking a preventive approach with termite control is the best option to prevent thousands of dollars worth of damage! Do you think you have termites? Early signs of an infestation include:
Termite mud tubes along the foundation of your walls
Blowholes in trees and their trunks
Presence of termite wings in and around your home
Sagging floors and hollow wood
REDEEM $250 OFF TERMITE SPOT TREATMENT!
If you notice any of these signs in your home, give us a call today and our termite exterminators can be there in no time to inspect your home and create a treatment plan based on our findings! You can even bundle our termite services with pest control and get over $100 off!
Enjoy Our One Year Termite Warranty
For most people, your home is going to be one of the biggest investments you make in your life. Why not have the right protection in place to ensure your investment isn't in danger? When you partner with EnviroCon for your termite control in The Woodlands, we guarantee that your home will be termite-free for a minimum of one year. We'll eliminate all existing infestations, and take a preventative approach to prevent future occurrences. When you put your home in our hands, you can rest assured that we'll take the very best care of it.
Mosquito Services in the Woodlands
Eliminate and Control Mosquitos, Ticks, and Fleas.
Here in the Woodlands, when our weather is good, it's great – unfortunately, mosquitoes think so too. The warm weather and humid climate in this city make it an ideal environment for mosquitoes to not only thrive in the moisture but to reproduce with ease. Getting rid of mosquitoes in your yard is only the first part – we also prevent them from coming back with targeted mosquito misting. 
When you partner with EnviroCon for your mosquito control, you'll receive:
The best possible service from the most knowledgeable mosquito exterminators in the industry.
Monthly treatments during the warm season that eliminate mosquitoes on contact & kill their eggs so they can't reproduce.
Long-term mosquito extermination and relief from mosquitoes.
The Woodlands' Best Mosquito Exterminators
As a local pest control company, we know exactly how uncomfortable mosquitoes can make your property. Even worse, mosquitoes are capable of spreading deadly diseases to you, your family, and your pets, including Zika Virus, West Nile Virus, and more! Our mosquito control in the Woodlands can put you at ease, targeting the areas of your property where mosquitoes hang out most, including shaded areas and standing water, as well as areas you and your family spend the most time. If you're ready for a mosquito-free backyard, you want to work with EnviroCon Pest Control. 
Fire Ant Exterminator in the Woodlands
There's nothing quite as nervewracking as looking down only to see fire ants swarming over your feet. At EnviroCon Pest Control, our goal is to put an end to this by removing unwanted fire ant colonies from your property. Our fire ant control can put an end to burning and blistering ant bites!
Fire Ant-Free Property
Fire ants can usually be spotted in a yard by their tall, sandy ant hills. However, these anthills can often go several feet down into the ground, making removing these biting pests difficult. At EnviroCon, we begin by inspecting your property, identifying these fire ant mounds and the severity of the infestation on your property. From there, we will create a custom plan to remove fire ants, including year-round treatments to keep these foreign invaders from moving back onto your land, and putting an end to fire ant bites!
Flea Exterminator in the Woodlands
You've probably dealt with fleas and ticks in the past and you may be dealing with them currently! Although fleas and tick bites on humans happen less frequently, they can infest our pets and can then infest our homes. Whether you want to protect your home from a flea infestation or protect your kids and pets from tick bites while playing outside, EnviroCon Pest Control is pest control company for you!
Family-Friendly Flea & Tick Treatments in the Woodlands
More than just an annoyance, fleas and ticks are capable of spreading diseases to your family and pets. From Tick Paralysis to Lyme Disease, these pests are to be taken seriously. At EnviroCon, we offer proven solutions that are tough on fleas and ticks while safe around your family and pets. After a thorough pest inspection of your property, our exterminators will provide targeted treatments around your property, killing flea and tick populations. These treatments are eco-friendly and safe for your family to be around. During the peak summer months, we return monthly to retreat, ensuring that these dangerous pests and unable to return to your property.
 Are you ready to rid your property of fleas and ticks?
Stinging Insect Control in the Woodlands
Warm, sunny weather in Texas year-round allows homeowners to spend their seasons enjoying their backyards. Unfortunately, the threat of stinging insects like bees, wasps, hornets, and more can drive you and your family indoors. Our Woodlands stinging insect control eliminates harmful pests from your outdoor spaces so you can enjoy your yard without the risk of getting stung! Our fast and effective services are backed by our satisfaction guarantee, so you can relax knowing you're safe from stinging insects all season long! 
The Best Service from Local Exterminators
When you put your home in the hands of EnviroCon, you can rest assured knowing you're receiving the best stinging insect control. As a locally owned and operated pest control company, our community and their safety is our top priority. We'll do everything we can to ensure your home and family are protected from stinging insects like:
Bees
Wasps
Hornets
Yellow Jackets
And more!
Enjoy your backyard without stinging insects!
Rodent Control in the Woodlands
Rodent infestations are bad news for any home. Capable of damaging walls and furniture, ruining food, spreading Salmonella, Hantavirus, and other diseases, and generally being a pain in the neck, these pests are not the sort of house guests you want to invite over! But don't worry—EnviroCon Pest Control of the Woodlands has you covered. As the one-stop shop for all your rodent control needs, you know with us you'll have a rodent-free home in no time. We can help you identify common signs of rodents, including the following:
Gnaw marks
Smudges on baseboards
Scratching noises in walls that increase after dark
Droppings
Torn open bags of food in the pantry
And more
Call us today at 281-356-5284 and let us help you take back your home.
Eco-Friendly Rodent Treatments You Can Trust
Trying to tackle a rodent infestation on your own can be intimidating. Most supermarkets and hardware stores will overwhelm you with a selection of rodent control options that might seem tempting, but most of which will do nothing to fix the problem at its source—and at worst, will expose you and your loved ones to dangerous chemicals. Why take the risk? With EnviroCon, you'll have the comfort of knowing that our services are eco-friendly and safe for children, pets, and our planet. That's not the reassurance you're going to get from a DIY treatment. Your family deserves the best. Your family deserves EnviroCon.
Roach Control in the Woodlands
It's easy to bring cockroaches into your home, but not as easy to kick them out. Even small things, like dirty dishes or crumbs on the counter, can attract these pests and give them the perfect conditions needed to thrive. Roaches aren't only annoying, they can also carry dangerous diseases and allergen triggers that put you and your loved ones at risk, making roach control a must.
Here at EnviroCon Pest Control, we're dedicated to providing our neighbors in the Woodlands with quality pest control that doesn't harm the environment. With our effective, eco-friendly roach control, you won't have to worry about cockroaches invading your space any longer. When you partner with us, we will:
Inspect your home from top to bottom, checking every corner of your home for roaches.
Use family-friendly products to safely eliminate roaches.
Provide same-day service so you don't have to wait for relief.
Guarantee your satisfaction or we'll give you your money back.
Locally Owned & Operated Here in Texas
There are many companies in the area that provide pest control. We'll tell you why you should choose us:
We are a small, locally-owned company, so we are your neighbors and a big supporter of the community.
We are passionate about being eco-friendly and use the most minimally invasive treatments possible.
Our exterminators are experts in the industry, with over 10 years of experience and are certified, entomologists.
We offer extremely fast relief -- which includes same and next day service, along with 24-hour phone lines to give you quick relief!